The smallest USB 2.0 connector
Various lengths available
Micro USB cables are 2.0 compatible. The only difference being a smaller connector, which makes these cables very suitable for use with smartphones and tablets. Micro USB has become the standard for smartphones.
Buy directly from the
manufacturer
sam creative

exclusive distributor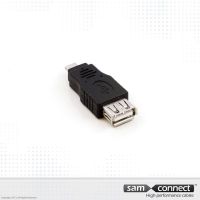 In stock.
Will be shipped immediately.
Delivery time depends on the size of the product and your address. We do our best to deliver your order as soon as possible.